Odesa Photo Days asks to stand with Ukraine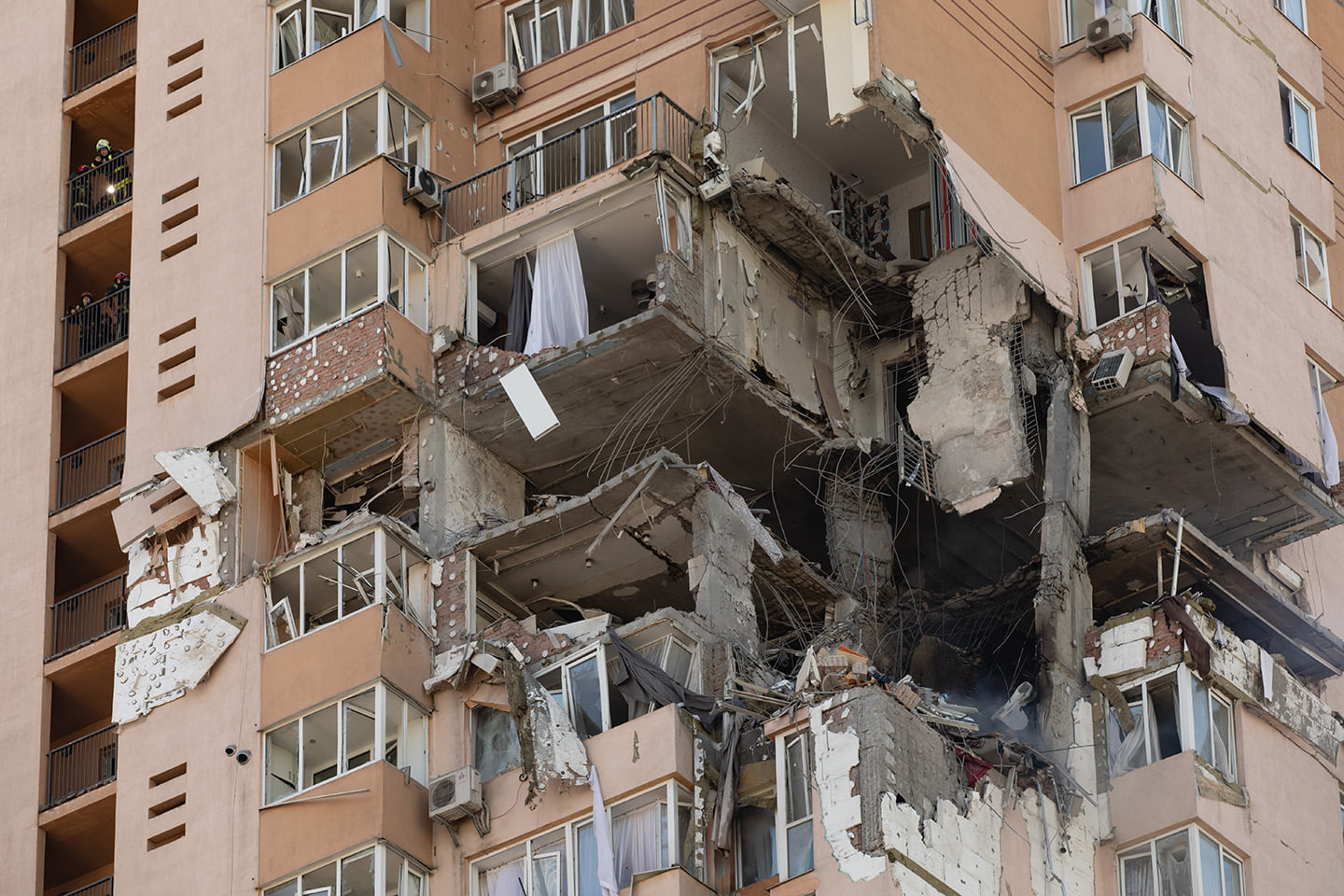 View of a civilian building damaged following a Russian rocket attack the city of Kyiv, Ukraine, 26 February 2022. Photo by Michael Palinchak, Documentary photographer based in Kyiv, Ukraine.
Early morning on February 24 Russia began the full scale military invasion of Ukraine.
Russian troops launched missile strikes against peaceful Ukrainian cities from various directions, including the temporarily occupied Donbas and Crimea and the northeastern region.
They target both military objects and peaceful homes, orphanages and kindergartens. We are still fighting to protect our homes, loved ones and the whole of Europe.
We need the support of the professional photographic community. Please, consider the possibility to include special events in official festival's programs, to show pictures from Ukrainian and foreign correspondents, who are bravely doing their job in Ukraine. Photography is a powerful tool and media to tell the truth about what is going on in the centre of Europe now. We, as Odesa Photo Days Festival, can't do this right now on a full scale, so we are asking for your support. Thank you for all the letters and kind words. We feel your support, it's time for action.
As individuals you also can help: spread the word, go to the streets and press your governments to do everything to stop Russian aggression, raise money for the Ukrainian Army and civilians.
What exactly you can do:
SHARE INFORMATION
Share the information of what is going on in Ukraine, your support and demand to your governments to #BanRussiafromSwift, #CloseTheSky and do more sanctions to #StandWithUkraine. Use hashtags, tag high-rank state leaders, post on Facebook, Instagram, Twitter etc.
PROTEST
Join the StandWithUkraine protest in your city. Madrid, Barcelona, Berlin, Paris and more cities support Ukraine, please, make it more mass and visible.
SUPPORT UKRAINIAN ARMY
The National Bank of Ukraine has opened a special account to raise funds for the Ukrainian Army. Anyone from any country can donate.
The account is multi-currency. It is opened for transfers of funds from international partners and donors, any person as well as from Ukrainian business and citizens.
For donations in USD:
SWIFT Code NBU: NBUA UA UX
JP MORGAN CHASE BANK, New York
SWIFT Code: CHASUS33
Account: 400807238
383 Madison Avenue, New York, NY 10179, USA
Bank account: UA843000010000000047330992708
For donations in GBP:
SWIFT Code NBU: NBUA UA UX
Bank of England, London
SWIFT Code: BKENGB2L
Account: 40000982
Threadneedle Street, London EC2R 8AH, UK
Bank account: UA843000010000000047330992708
For donations in EUR:
SWIFT Code NBU: NBUA UA UX
DEUTSCHE BUNDESBANK, Frankfurt
SWIFT Code: MARKDEFF
Account: 5040040066
IBAN DE05504000005040040066
Wilhelm-Epsteinn-Strabe 14, 60431 Frankfurt Am Main,Germany
Bank account: UA843000010000000047330992708
Details and other currencies: https://bank.gov.ua/en/news/all/natsionalniy-bank-vidkriv-spetsrahunok-dlya-zboru-koshtiv-na-potrebi-armiyi
Donation for the Ukrainian Army through the Fund "Save Life"
https://savelife.in.ua/en/donate/
HELP UKRAINIANS IN YOUR COUNTRY
A lot of Ukrainians can't come back home and need support in other countries where they were on vacations or business trips with an amount of money not enough for a long stay. They need places to stay, food, clothes and just kind supportive words are important to us.
Keep calm and stand with Ukraine. We believe in our army, international support and hope for the better.