​​"Photography for Ukraine" project is launched in Slovakia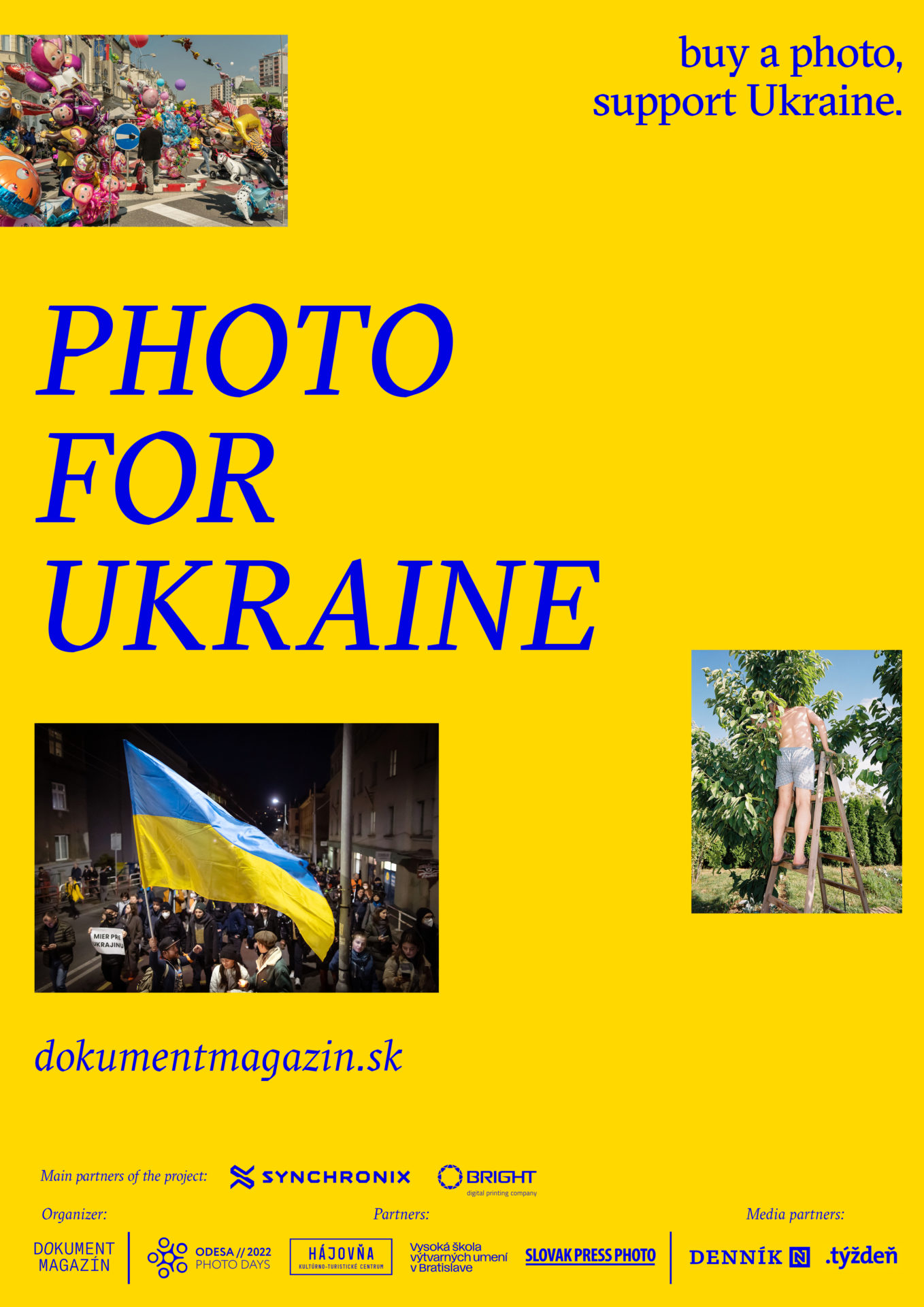 Under the auspices of the Slovak online magazine Dokument (the archive of Slovak photography), in cooperation with the international photography festival Odesa Photo Days the project ​​"Photography for Ukraine" has started. The project is mainly aimed at supporting photographers, artists and the cultural scene in Ukraine. More than 30 artists from Slovakia and Ukraine participated and provided their photographs for sale.
You can buy works on the Dokument Magazin website for 3 weeks (from 10.04. to 01.05. 2022). The recommended minimal price of one photograph is 69 EUR. However, you are welcome to contribute more, the final decision is up to you. All funds raised will be donated to aid Ukrainian photography, thanks to project's partners SYNCHRONIX, a.s. and Bright, s.r.o. who financially supported the printing of the photographs. 
More works will be added subsequently. All funds raised will be donated for the support of Ukraine. Part of the funds will be transferred via partner organization (NGO Art Travel, organizer of Odesa Photo Days) to the humanitarian organization "Kharkiv With You", part will be used for direct relief to the families of Ukrainian artists most badly struck by the atrocities of war.
If you are a visual artist working with the photographic medium and you like the project Photography for Ukraine, please consider supporting it with your artwork(s). Contact organizers by email at fotografiapreukrajinu@gmail.com and they will send you the information needed for collaboration.
Organizer:
DKMNT o.z., www.dokumentmagazin.sk
instagram and facebook.
Main project partners:
SYNCHRONIX, a.s., Bright, s.r.o.
Project partners:
Odesa Photo Days, HÁJOVŇA /cultural and tourist centre/, Slovak Press Photo, Academy of Fine Arts, Medium Gallery.
Media partners:
Under the umbrella of the Photography for Ukraine project, Dokument Magazin and Odesa Photo Days are also preparing other activities to promote Ukrainian photographic culture, exhibitions of Ukrainian artists in particular.
****
On February 24, 2022 Russia started the full-scale war against Ukraine. Since then Kateryna Radchenko and the Odesa Photo Days team have been working hard on spreading the word about what is going on in Ukraine and supporting Ukrainian photographers. The eighth edition of the Festival was scheduled to take place in Odesa on 19-22 May 2022, but it's impossible to hold the festival during the war. We keep working on the international scene to support Ukraine. Follow us on Instagram and Facebook to see more news.