The first volume of The Information Front newspaper is out now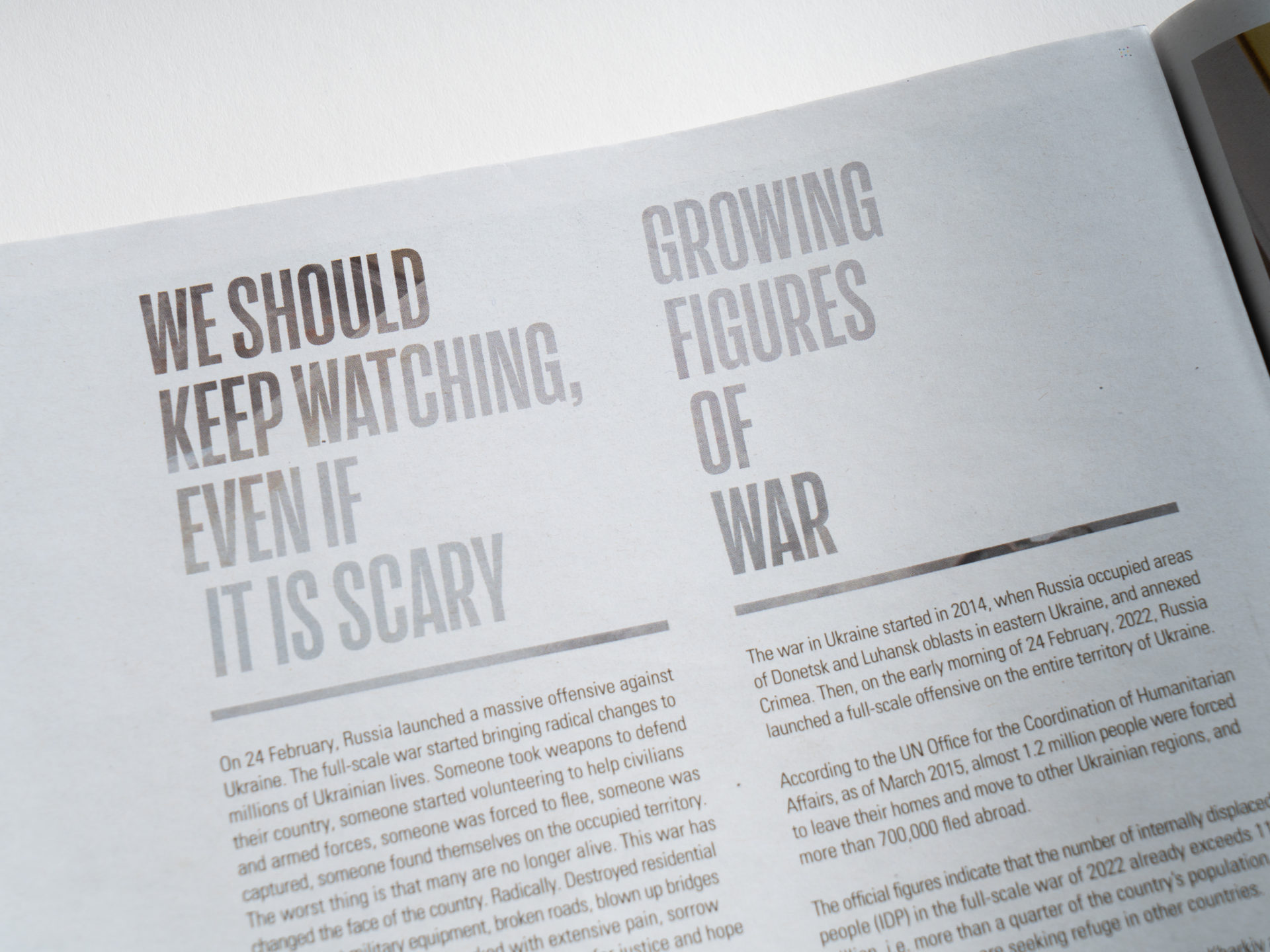 The Information Front is a newspaper that supports Ukrainian photography and photographers organized by Kateryna Radchenko, a Ukrainian photography curator from Odesa; Donald Weber, a Canadian photographer who worked in Ukraine from 2002 and still has deep ties to the country; and Christopher Nunn, a British photographer who has been working in the Donbas for more than ten years.
Together, they have decades of experience and knowledge working in this region. The designer of the newspaper is Sybrien Kuiper, a world-renowned Dutch book designer. Village Books in the UK handles worldwide distribution and handling. Lithography by Sebastiaan Hanekroot, Colour & Books.
The Information Front features photojournalism of the war covered by those photographers who are most vulnerable: Ukrainian photographers themselves. This newspaper functions as a platform to support their important work and, through dissemination and circulation, to maintain visibility of the war. All profit from the sales of The Information Front will go to the Ukrainian charity foundation The Depths of Art, which supports Ukrainian culture, including photographers in a partnership with Odesa Photo Days.
The Information Front believes that photography, especially photojournalism, plays a crucial role in learning about the violence inflicted and acts as a counter-measure to false truths and propaganda spreading. The photographs in The Information Front cover the first two months of the war, with the first dated 12 February, 2022.
Featuring a text by Ukrainian poet, author, and political activist Serhiy Zhadan.
For our second Volume, The Information Front takes a broader view of Ukraine's fight for freedom by showcasing photography's role in the country's quest for freedom and identity since the 1970s to the present day.
How to Support
Support Ukrainian photographers by becoming a "distributor-from-below" of The Information Front. The essence of a newspaper is that it wants to circulate and be exchanged. Therefore, in addition to the singular copy for €10, we provide options: 10, 25, 50 100+ for a reduced fee. People become their own distributor and hand out the newspaper to colleagues, family, friends. Bulk orders from institutions and organizations are encouraged.
For more information on this and future volumes, or to become a "distributor-from-below," go to: theinformationfront.com
The Information Front was made possible with the support of Free Press Unlimited through its "Media Lifeline Ukraine" and "Reporters Respond" initiatives, and Pictoright.